Innovate Finance Global Summit 2023
We were honoured to open the first panel discussion at IFGS 2023 titled "ESG in 2023: Inaction is Not an Option" Checkout the full gallery now.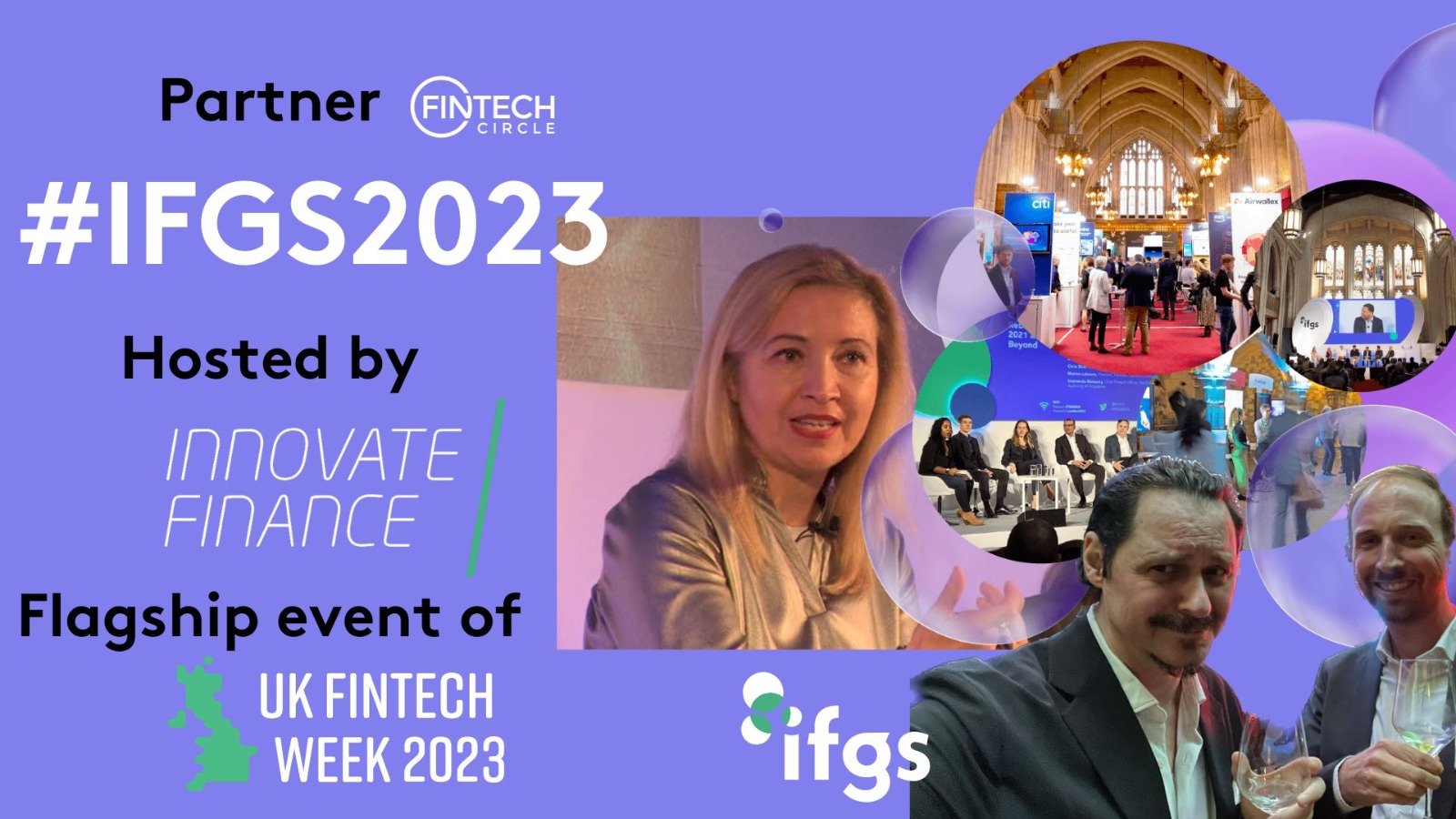 Date: 26 April 2023
Author: FINTECH Circle
The Innovate Finance Global Summit (IFGS) returned for its 9th year to the historic Guildhall in the City of London on the 17th & Tuesday 18th April 2023.
We welcomed the brightest and best from the financial services and fintech ecosystem to discuss and debate the crucial issues facing the sector now and in years to come.
It was great to see that the UK continues to be a leader in financial innovation. Its place at the centre of global financial services, with supportive regulation, access to world-class talent, and a rich investment landscape has made it a hotbed of startups and established fintechs.
These new and exciting businesses are working to change and evolve the sector for the benefit of consumers and businesses alike – so it was great to see so many on panels during the 2 day event.
IFGS 2023 convenes industry leaders ranging from innovators, institutions, regulators to policy-makers, startups and investors to one place for two-days of thought-provoking discussion.
The agenda shone a spotlight on the global fintech ecosystem, with an increased focus on the key areas that are enhancing, empowering and ensuring that fintech and financial services pave the way for economic growth, sustainability, and a financial system that caters for all.
Our very own CEO Susanne Chishti opened the very first Panel Discussion on day 1 in the the Livery Hall titled
ESG in 2023 – Inaction is Not an Option
Susanne Chishti – Founder & CEO of FINTECH Circle, spoke with fellow panelists 
Sherry Madera (Head of Sustainable Finance, MasterCard)
Gihan Hyde (CEO Communique)
Moderated by Stephen Dury (VP, Capgemini Invent)
…the insightful discussions being about how Fintech can help with subjects such as ESG and Diversity & Inclusion.
P.S   If you missed IFGS 2023, don't worry!
You can still catch up on all the exciting discussions and panels that took place during the event by seeing our Live Twitter Posts here and on Linkedin 
Or just check out the Photo gallery below to see just a few of the really great Panelist's and speakers who featured…. 
View the full gallery of the event below:
…all in all it was a fantastic 2 Day event. Hats off to the entire team at Innovate Finance for orchestrating what was a very memorable Fintech event.

Thank you

… really looking forward to next year already!
About FINTECH Circle
FINTECH Circle is a global platform of more than 260,000+ Fintech entrepreneurs, investors, finance professionals, academic & government representatives, and solution providers. The company launched Europe's 1st Angel Investor Network providing seed capital to the best fintech startups in the UK.
FINTECH Circle also runs courses, webinars & innovation workshops for finance teams and C-level executives and publishes fintech thought-leadership titles.
You might also be interested in